Istanbul, Turkey
What can I say about Abby, Cat and Jess, aka The Three Yedis of Constantinople? Well for starters, these three wonderful girls have been pretty much single-handedly responsible for my best adventures of the last two plus years. The four of us have seen Turkey, the Maldives, Sri Lanka, and more recently, Singapore and Korea. So you can imagine the extent of our stories across Asia. But here is the story of how we met!
I've known Jess for years, she lived in New York City and we met shortly after I moved there in 2007, through my old school bestie, Megan (who nows lives in the US Virgin Islands teaching diving). Jess decided to quit her job in the fashion industry and moved to Istanbul, Turkey to teach English. So New Years of 2012, my friend Courtney asked me to be her date to a friend's wedding in Tel Aviv. I accepted and committed to a week in Israel. While planning the trip, I decided that since I was so far away, I would make the trip into a month long trip and see friends in the region and Europe. This way I could sublet my room and that saved cost would pay for the trip AND I would get to see some new places and old friends. I had always wanted to go to Turkey and see Istanbul, I was close by, and as luck would have it, my Turkish-American friend Aysu was in Istanbul the same time too. So having friends there re-assured me it was a good destination to check out and I headed to Istanbul after my week in Israel.
I landed in Istanbul for a week long trip and since Jess had to work, I spent the first two days at an Airbnb room in the European side of Istanbul, just south of Taksim. I met up with Aysu and her friends, some of whom were either Turkish or familiar with Istanbul, so I got an immediate taste of this wonderful city with people who knew the town! I ate amazing food, we checked out Istiklal street shopping district, I walked around and explored the old city, Sultanhamet, checking out The Blue Mosque, The Hagia Sofia, the bazaar and markets, as well as exploring Taksim. Aysu knew a local guy, Levent and his biz partner Can (John), both Turkish, who own a really cool little nightclub called Novo, in Taksim, and that became our spot at night! To this day, its still my favorite night spot in Istanbul! The first night at Novo, I pretty much made friends with the entire bar, and I am still friends with some of the people I met that night! One of my friends I met at the wedding, Reyna, who was from D.C. was also in town briefly, so one night we went out together and also ended up there (and a few others late night spots). Aysu finally had to leave town, so it was perfect timing, as I was now ready to meet up with Jess, and meet the Yedis (I hadn't met them yet, but had heard stories from Jess).
So on day four, I took a ferry and crossed over the Bosphorus river to the Asian side of Istanbul (Istanbul is the only city that is half in Europe, half in Asia, separated by the Bosphorus river), where I met up with Jess, who I was going to stay with the rest of my time in Turkey. We arrived at her place and I met her two other roommates, Abby and Cat, who were also Americans and also teaching English. Jess was happy to have a visitor from home, and I was stoked to see her and get a chance to explore the city some more with with a familiar face and get a new perspective on Istanbul.
So getting to the nickname: The 3 Yedi's of Constantinople. So since the girls were all teachers and living together, all experiencing the city for the first time, they decided to make video blogs to document their time in Istanbul so their friends could follow their adventures. They made fun videos of them exploring the city and experiencing life in Istanbul, going to sites like Capadocia, and other trips around the region. So they chose a nickname for their videos, and they became the 3 Yedi's Of Constantinople, named after the Ottoman empire name for Istanbul, and the famous song "Istanbul (Not Constantinople)" by They Might Be Giants, which they used as their theme song for their videos. Little did I know that my stay with them would be in their next video!
My four days with the girls were absolutely amazing! We focused a lot of time exploring the Asian side of Istanbul (Kadikoy), which was fun for me because the Euro side is great, but the Asian side has its own unique lifestyle. While the Euro side has the fancy shopping and the more fancy nightclubs, the Asian side is more low key and hip, kind of like my home in Brooklyn. Lots of great dive bars, more chance to meet and mingle with locals and not just other travelers, really good places to eat that didn't cost an arm and a leg (great seafood, kebabs, traditional Turkish foods), and its more sub-urban, so not as crazy as the Euro side. We went to some great bars, including one that had cats and a fireplace! Actually, quite a few bars had stray bar cats, kind of a thing in Istanbul!
We did though go and explore the Euro side some more. One night we went to the Euro side for an international ex-pat meet up called Internations, which the girls were members. I got to meet a lot of other people who were also living and working in Turkey, but nationals of other countries. This was my first real exposure to a local ex-pat community. Really good insight into the lives of people living abroad and really got the feel of what its like for people who live and work in countries outside of their homes.
For my final night, we decided to have an all out night and met up with my friend Selin, who I had just met through Aysu. Some of the Yedi's friends came out too and we ended up bar hopping around Taksim, ending up at the Montreal Shot Bar. In Istanbul, you can go to bars that serve just shots. Like 20 shots for 20 lira ($11 USD). Great if you wanna get in a lot of trouble! Anywho, they filmed the evening and it ended up in one of their video blogs. Not the wildest night we had, but we surely had a great time and lots of drinks, crazy hats, and dancing! A great way to end my time in Istanbul, but it was not to be my last.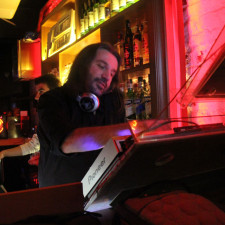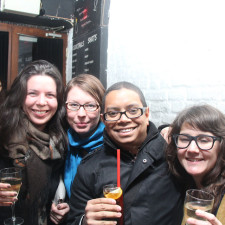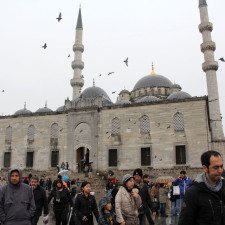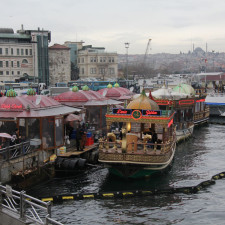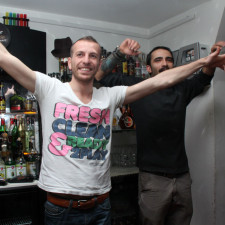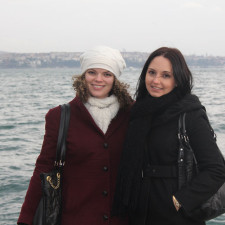 So knowing that I travel a lot, Jess was planning a trip for their upcoming summer break and asked if I would like to come along. They wanted to do a trip around the south of Turkey and the Greek islands, doing a Turkish Gulet cruise (wooden sailboat cruise). They needed a fourth person to even it out, and it sounded super rad, so I agreed to go and just under 6 months later, I was back in Istanbul for round two. This would be the first of our group travels to far away places, and is a tradition we're so far keeping alive. The month before the trip, May 2012, I spent living in Barcelona for 4 1/2 weeks, so it was easy to just hop over to Turkey to spend the rest of June with the girls, ending the last few days of June in Amsterdam before I headed home. Once again, I subletted my apartment in NYC for two months so I could do this trip.
We spent a few days hanging out and partying on both the Asian and European sides before leaving for our adventure. The first day I was there, we kicked it on the Asian side, exploring the waterfront, taking great sunset pics, and drinking/eating at a few local spots and meeting these really cool local Turkish guys and girls, who we drank with the rest of the night. They were really fun, spoke great English, and made sure we had a love for the Galatasaray football team and taught us how to thank God when they scored a goal! Really cool crew, we would see them again the next night!
The next day we did a cruise of the Bosphorus river in the day, doing some basic sightseeing. Then had drinks with Cat and Abby and Jess at an English pub with other teachers. We met up with Abby's boyfriend Simon (they're still together now and I just spent time with them in Busan, South Korea) and his Turkish roommate, this really cool rock n' roll tattooed girl named Duygu. We went over to the Euro side for a night out in Taksim, including stops at Novo and other places, that would become a MASSIVE night of drinking. We (myself and Abby, Jess and Cat went home) ended up at a rooftop after party/dance party at 4am that Can invited us to that had an open bar and lasted until the sun came up. I should have know better than to keep drinking, but.. open bar, c'mon! Needless to say I spent the next nearly three days with the 2nd or so worst hangover of my life. When I finally surfaced to reality, we we're leaving for the south of Turkey on our adventure and boat cruise!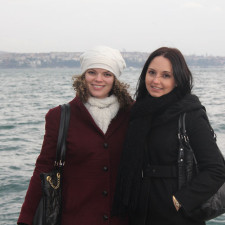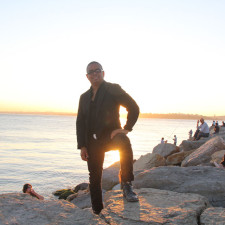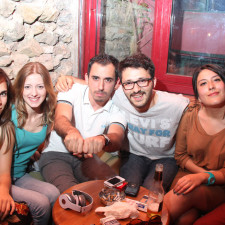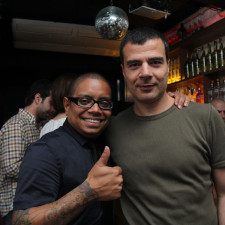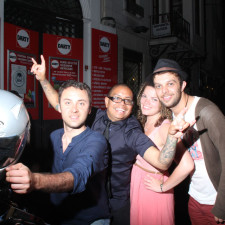 Now I will save our Turkish adventure for another blog post, but I will recap some highlights:
Abby had to cancel the trip, so myself, Jess and Cat took off for the southern resort town of Bodrum. We stayed there a few days, exploring the roman ruins of Efes, the historical city of Bodrum, which had lots of castles and was a resort hot spot for Turkish and English tourists. We then went to Oludeniz and did paragliding, went to a hidden beach (Butterfly Valley), then to the resort/boating tourist city of Marmaris (so many British tourists). After a night of extreme clubbing, we met up with the gulet boat and did a 7 day cruise around South Turkey and the Greek islands of Rhodes and Symi. Really amazing time and great bonding experience with the girls. Lots of relaxing in the sun and doing nothing, swimming, shopping, living the boat/island life! After it was over, I flew to Rotterdam to wrap up June and head back to NYC.
Later that year, Jess asked me if I wanted to go for round three and join her and Abby for a trip to the Maldives and Sri Lanka. Their dates would have me meeting them in Istanbul later in Jan, and we would conclude 2nd week in February. Since I needed to sublet my room while I was gone, and the trip fell in two months, I decided to do something crazy and just travel all of Jan, Feb, and the first week of March. This way I could sublet for two months and do some exploring before and after my time with the girls. So I spent the first few weeks in Europe/North Africa (Prague, UK, France, Spain, Portugal, Morroco), seeing friends and familiar places, as well as seeing new places (Prague, Morroco, and Porto were new for me). Then I met the girls in Istanbul and hung out there for a few days doing our usual round of partying, then we did our nearly two weeks exploring Maldives and Sri Lanka. This time Cat couldn't make it, so I did the trip this time with Abby and Jess.
While in Sri Lanka and the Maldives, we saw lots of buddhist ruins and temples, and got to experience not only the country side and culture of Sri Lanka (spice and tea plantations in Nuwara Eliya, small cities, ancient ruins in Sigiriya, cultural shows and temples in the city of Kandy, wildlife safari in Kirinda in the south, etc), but we had a few days of beach time in the south and ended up with an epic last night in the capital of Colombo (made new friends there too). After that, I used the chance to see Thailand, Philippines, Hong Kong and Japan for the first time, as I needed to make my way east to get back home. So thanks to Jess and the Yedi's, what was just a small trip turned into my first around the world trip. I even got friends of mine to join me for most of the rest of the asian trip!
A few quick photo recaps of South Turkey, Greece, Maldives, and Sri Lanka: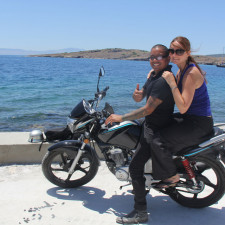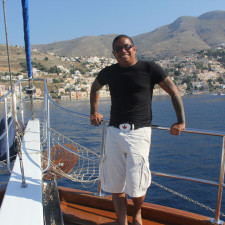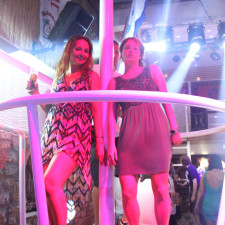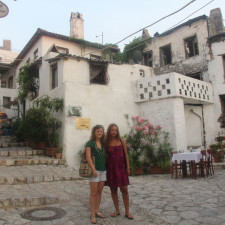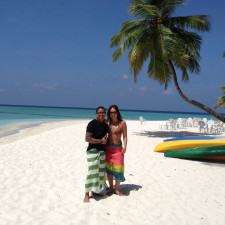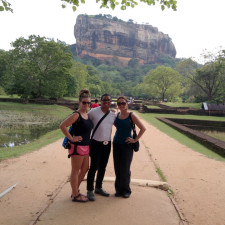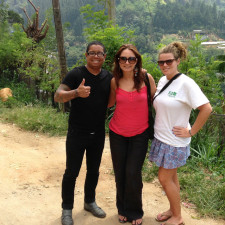 Again, ill write a separate post about my post Sri Lanka Asian travels, but thanks to the Yedi's, in just over a year's time, they were responsible for some of my best times I've had around the world so far! Currently, in early 2014, the girls now live in separate places. Abby went to teach in Busan, South Korea, Jess teaches in Singapore (though may be relocating soon), and Cat is back in New York finishing her masters at Columbia University (so I see cat on a regular basis, when I am actually home in NYC). In Febuary 2014, Jess and Abby invited me to join them in the Philippines, but this time our travel plans didn't line up. But I was in Asia so I met up with Jess for nearly a week in Singapore, and we had an absolutely wonderful time! A few weeks after that, and what just happened as of this article, I spent a week in Korea, including 5 days in Busan with Abby and Simon. I had an equally good time and honestly, I'm now in love with South Korea! I definitely will go back as soon as I can!
Needless to say, I am sure that with Cat's impending graduation, and summer coming up, I am sure the Yedi's will re-unite for another adventure and hopefully ill be right there with them! I just wonder what awesome place we will go next. Maybe I can talk them into South America?!
Here are some 2014 pics: